Woodoc 50 Exterior Marine-grade Sealer
£14.24
Woodoc 50 is a high-performance exterior finish that gives excellent protection against ultra-violet radiation, wind, water, pollution and salt spray damage. Ideal for marine applications.
Available in High Gloss and Matt.
The following video shows how to apply Woodoc 50 (Note: Mineral turpentine = White spirits in video)
Related products
Customer Reviews
06/11/2020
Anthony R.
United Kingdom
I recommend this product
1st Class Product
We have just built our own garden room and carried out a lot of online research to find a product that would give the wood some protection throughout the year from the sun rays or in winter the wet weather. Woodoc 50 was highly recommended to do both. We have followed the product information and video on how to apply it and I must say we have noticed the difference from the first to the second coats. As directed it was recommended we give 3 coats to a new product and therefore can't wait to do the last one tomorrow before it's complete. I would love to send you a picture so you can see for yourselves how great this product is but there doesn't seem a facility on the website to do this. I would highly recommend it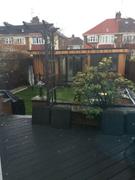 07/12/2020
Woodoc UK Webstore
Thank you for the feedback and for sending through a picture of your lovely garden and garden room. We have added the photo to your review and hope you get much enjoyment from it.
26/10/2020
Kate B.
United Kingdom
Great product!
Fantastic product that's made our summerhouse truly amazing. Only gripe really was as there was limited stock and we needed the product, we had to buy numerous lower litre cans to finish the job which came at a cost. Still would highly recommend
26/10/2020
Woodoc UK Webstore
Thank you for the review, we are so pleased you are happy the way your summer house turned out. We are sorry we had limited stock when you ordered. As more and more people have started using Woodoc 50 Matt (especially on Cedar Cladding), sales have exceeded all expectations this summer and we are in the process of re-stocking. Thank you for your custom and please do get in touch if
25/10/2020
Andrew M.
United Kingdom
Cedar Cladding
Follow the instructions and it's a great product