Woodoc Ultra Matt Interior Wood Finish
£7.92
Woodoc Water-borne Ultra Matt is a unique product specifically designed to provide a nearly invisible tough finish on wood that is:
Water resistant
Alcohol and stain resistant
Heat resistant up to 150 deg C 
Woodoc Water-borne Ultra Matt is ideally suited for use on light woods such as White Oak, Larch, Maple etc. The picture below shows two blocks of Maple where it is almost impossible to discern the difference between the unfinished block (on the right) with the block finished with Woodoc Ultra Matt (on the left).
It can be used on darker woods, however for dark woods we would recommend Woodoc solvent based sealers as they provide more depth of finish while bringing out the colour and grain of the wood.
Woodoc Water-borne Ultra Matt can be used on all interior woods including floors, furniture, doors, joinery and wooden kitchen counters (See White Oak Kitchen Counter below).
Unlike traditional varnishes it does not yellow with age. Below is the result of finishing an oak table with Woodoc Ultra Matt after embellishing the grain with Ebony Colour in Woodoc Plus-life Primer.
Woodoc Ultra Matt can bring a light modern look to floors too, such as this pine floor restoration in a Victorian Terrace.
Watch the video below to see how Woodoc Ultra Matt copes with red wine and coffee spillages:
Please note that due to the nature of the Ultra Matt product, its use on dark wood flooring may result in any scratches showing up more prominently. These can be easily touched up to restore the finish.
The Ultra Matt Story
We were challenged by our customers to develop a product that would be water resistant, alcohol resistant, heat resistant, tough and nearly invisible. Time and again we heard stories of intallations of very pale woods used in staircases, center-piece tables and sweeping floors where the customer loved the look until the finish was applied and the light, raw look disappeared. After more than five years of research and development, we are proud of our answer to this challenge: Woodoc Water-borne Ultra Matt. We are very excited to bring this to market and answer the needs of our most discerning customers.
Related products
Customer Reviews
100
reviewers would recommend this product
Write a Review
08/02/2023
Jason F.

United Kingdom
I recommend this product
Ultra matt - this stuff is liquid gold!
It's brilliant. Did not change the colour of my oak at all. Easy to apply - well worth the money. Super product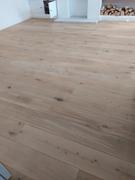 08/02/2023
Woodoc UK Webstore
We're so pleased the product let you achieve the finish you were looking for. Thanks for sharing the picture - the floor looks stunning!
16/11/2022
Sabia M.

United Kingdom
I recommend this product
Lovely finish, but tricky to work with
I wanted a matt finish on a newly sanded oak table and this has produced exactly what I wanted. I applied 4 coats, gently sanding in between each, but it was slightly tricky to apply in as much as it goes off really quickly. The instructions say to apply more product to any areas that don't stay shiny for 10 minutes, but I found I was constantly going back. The final, fourth coat, seemed to go on the easiest and I wonder if I should have done one more. Anyhow, the finish is fabulous, although we haven't really tested it our properly for resistance to wine, moisture and heat yet, but Christmas will be the telling time. So, I knocked off half a star for the application and half a star because it is SO hard to open the tin. However, the finish is really gorgeous - beautiful flat matt and very smooth. Hopefully, it will be a tough finish too.
31/08/2022
Angela R.

United Kingdom
I recommend this product
Woodoc ultra Matt clear
This is the second time I have used the product. Once on a bamboo worktop and now on sanded pine chests. Doesn't darken the look of the wood at all and easy to use. Will use again.